Today I put together a little summer vignette
of hydrangeas (from my garden) and birds.
The very first thing I had to do was paint the metal vessel
that holds four little glass vases.
Originally, it was a bluish-green.
I had some antique white spray chalk paint,
so I sprayed 2 coats to make the holder more neutral.
It dried quickly because it was chalk paint.
Can you see the little bird in the center of the holder
(between the hydrangeas)?
While there was still morning mist from the ocean,
I went out into the garden with my shears.
I cut 4 small-sized blossoms for the 4 vases.
Did you know that flowers last longer if they are cut
first thing in the morning?
Then, I started to arrange a vignette on the wine barrel
which I use as a table on our back porch.
It is a convenient table - and very appropriate since
we live in California's wine country.
Our porch looks out over a golf course.
For the vignette, I placed the flower holder & vases
on a metal doily which I purchased about 3 years ago
in Aix en Provence, France.
Then, to connect with the bird on the vase holder,
I added this sweet concrete bird I've have for many years.
It was a simple little project.
I will keep it out on the porch until this evening
when my daughter's friends are over.
We will eat dinner out there.
Later on, I will bring it inside and display
the vignette on the kitchen counter
(otherwise the morning mist tomorrow may rust parts of it).
Voila'!
A summer vignette of hydrangeas & birds...
P.S. I want to thank Kathryn for featuring the blue mason jar holder I made for my daughter's make-up supplies
on her blog: The Dedicated House
http://www.thededicatedhouse.com/2015/07/anything-blue-friday-week-91.html
Merci, Kathryn!
Link up: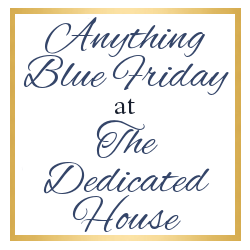 Join the party!
Share Your Style linky party...
http://northernnesting.blogspot.com/2015/07/share-your-style-22_16.html
Wow Us Wednesday #230:
http://www.savvysouthernstyle.net/2015/07/wow-us-wednesdays-230.html#more
Join the party - Feathered Nest Friday - at FRENCH COUNTRY COTTAGE:
http://www.frenchcountrycottage.net/2015/07/feathered-nest-friday_16.html#more
Visit The Charm of Home for the Home Sweet Home linky:
Pop over to Coastal Charm for Show & Share:
http://linda-coastalcharm.blogspot.com/2015/07/show-and-share-no271.html
See Metamorphosis Monday at Between Naps on the Front Porch:
http://betweennapsontheporch.net/a-beautiful-victorian-home-rises-from-the-ashes/