Many years ago (about 14 or 15)
my extended family and I went to Phoenix, AZ.
My in-laws bought the trip at a charity auction.
We were able to stay at the gorgeous (and HUGE)
house owned by the former
Mayor of Los Angeles (Richard Riordan)
and some of his business partners.
One day, I snuck off by myself
to do a little antiquing.
I found this darling little nightstand.
With its dovetailed joints,
I could tell this was a quality piece of furniture.
My favorite part has always been the scalloped top.
Well, teenage daughters often want to add their
own style to their bedrooms at a certain point.
My oldest daughter reached the stage
where she no longer wanted the chippy, shabby-chic vibe
I felt a tiny bit sad as I said farewell to this chippy beauty.
I took out my bright, white semi-gloss and went to town.
It looks pretty this way, too.
Instead of a handle, my daughter wanted these bubble
pulls from Anthropologie.
I put it back in her room.
Then, I styled it very simply.
Her jeweled lamp and her jewelry box were placed on it.
Then, because we live by the sea,
her ceramic shell (with its shiny blue interior)
went on her nightstand, too.
All in all, it was a great makeover!
Nightstand: Antique Store
Lamp: Can't remember (but I think it was Target)
Ceramic Shell: Pottery Barn
Michelle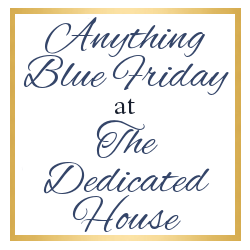 <a href="http://www.thededicatedhouse.com"