My husband came home for lunch today.
When he walked in, he saw a huge SMILE on my face.
I told him that I had exciting news: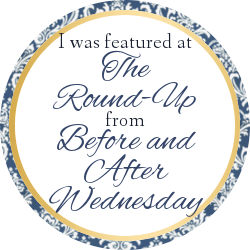 I am a relatively new blogger
and this is my first "feature".
I am thrilled (and honored).
I had to call my dad right away.
After all, he built the great shelving unit that was featured.
I also had a great fun with my neighbor/friend.
I am helping her create a gallery wall
and redecorate some areas in her home.
We went to Michael's together to pick up some
frames and a few crafty items.
My children all had fun today (& they are happy it's Friday).
All in all, it has been a very nice day!
Au Revoir,
Michelle